Art Déco Wiesbaden only 30 km from Frankfurt
Buy Art Déco furniture
Welcome to Art Déco Wiesbaden !
You are looking for an Art Déco cabinet from France around 1930? Maybe a beautiful Art Déco floor lamp next to it? Or maybe an Art Déco wardrobe with mirror? Whether in Paris or in Wiesbaden: here you will find the furniture and art objects from the French Art Déco from the time around 1930. Signed Lalique vases set accents, Verly`s glass bowls in opal and blue glass adorn peacocks and mermaids - Bronze panthers lurk on prey and a signed elephant bronze by R. Rochard seems to call... You can combine this art with modern furniture at home - the elegant Art Déco dining table to the refined upholstered Art Déco armchairs and chairs complete the inviting ambience.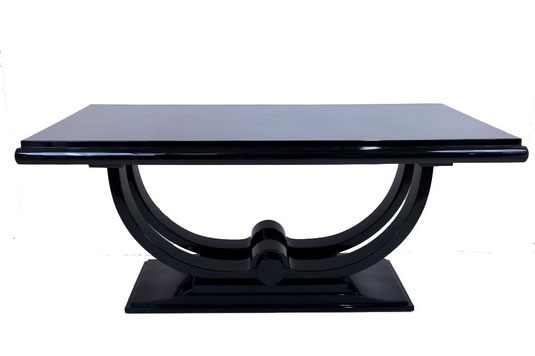 Dining room designed by Ruhlmann
Source: Internet
Art Déco writing desks in Wiesbaden
We offer you for your home office beautiful and practical Art Déco desks from the time around 1930 from France.
They can be placed in the room or close to a wall.
Especially in times of resource scarcity, we recommend the acquisition of sustainable furniture from the Art Déco which are beautifully restored.
Art Déco desks and sustainability
You also reduce the ecological footprint with the purchase of an antique Art Deco desk because you use existing furniture and thereby protect the forests. 
Art Déco desks and desk chairs in Wiesbaden
We offer beautiful desks from the French Art Deco for your home office or workplace.Visit us in Wiesbaden on the beautiful Taunusstrasse and convince yourself of our large furniture assortment of mirrors, cabinets , dining tables , side tables and coffee tables. This offer is rounded off by matching ceiling lamps, mirrors, table lamps and pictures as well as bronzes and small art.Experience the exciting world of Art Deco and their art objects.