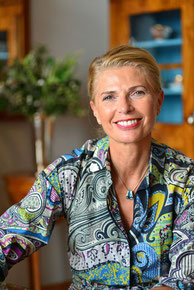 Art Déco is known for its clear, cubist forms - a style that originated in Paris in 1925 and has always fascinated me.Typical characteristics of the new style are uncompromising in every detail and geometric,linear and functional lines. Influenced by Cubism, Futurism and Expressionism, Art Déco spans from chromed tubular steel furniture by Mies van der Rohe and Marcel Breuer, lacquer furniture by luxury designers Emile-Jacques Ruhlmann and Maurice Dufrène, exciting fashions by Paul Poiret and the magnificent vessels of Maurice Marino and Emile Decoeur to jewelry by Jean E. Puiforcat and René Lalique.
The roots of Art Déco furniture are to be found in the French Anciem régime and in the work of 18th century cabinetmakers such as Riesener,Roentgen and Weisweiler. This comparison was inspired, among others, by Jacques Emile Ruhlmann and Jules Leleu himself. After the exuberant era of Art Nouveau, when furniture makers were considered to have strayed far from the tried and true path of traditional French taste, there seemed to be a need for a return to purity of form and sophistication. 
Art Deco furniture designers liked to expand their repertoire with other materials, adding a touch of opulence to their works: in particular lacquer, galuchat ( chagrin), ivory and wrought iron. Of these, essentially the varnish survived the twenties, after which industrial, synthetic varnishes came increasingly into use. Galuchat is the skin of a small, spotted cartilaginous fish: stingray leather could be used unbleached, was varnished or dyed to emphasize their grainy oil texture. Snake and animal skins, for example pony skin, were used in a similar way.
Ivory, which was completely absent from furniture design around 1900, experienced a renaissance, decorating and enhancing drawers, sabots, keyhole hardware, and the slender outline of a curved furniture leg.
Wrought iron was also used again, and its unruly mass became as docile as wax when used for furniture, lighting fixtures, and architectural elements.
I was impressed by the elegance of French furniture and decided to add it to my existing furniture assortment.
Only the high quality pieces in top condition should be with me - dining tables, desks, groups of chairs, bergères and matching small tables, lamps, bronzes and paintings.
Favorite pieces of mine personally are panthers, whose body and posture are able to express strength and represent lasting works of art.
Elegant salons or living rooms are created by the interplay of soft carpets, comfortable seating, matching curtains and precious lamps.
Floor lamps and table lamps made of women's bodies, bookends made of patinated bronze in various designs set accents in the living room.
Large fashion houses such as Dior and Chanel employed designers. One of them was Erté, who born as Romain de Tirtoff left Russia in 1912 and in France drew for three fashion magazines "Harpers Bazar" , "Vogue", " La Gazette du Bon Ton" but also stage designs. He started to work for Paul Poiret in 1913 and in the twenties he designed many revues of the Folies Bergères. Ladies with peacock feathers, draped with furs, pearls and gold tinsel, as immobile statues themselves becoming the decor.
Among the most famous fashion designers in France in the twenties, besides Paul Poiret, Jeanne Lanvin, Corby, Barclay, Callot Soeurs, Agnès Louis Boulanger and Doeuillet. Dresses were first christened models and were called: "While you love", "Tender hour", "Kiss me" or even "If he comes?".
If you now imagine this fashion, Bubi head hairstyle with hat and in addition a deeply decollated house suit with wide silk sash, tightly waisted evening dresses with matching Art Deco bracelet, swinging evening dresses with feather boa then it quickly becomes clear that this world was an exciting era - succumbed to the magic of a fairy tale world.