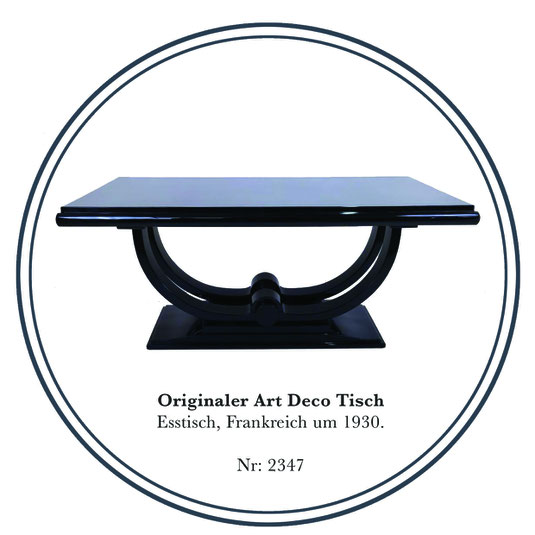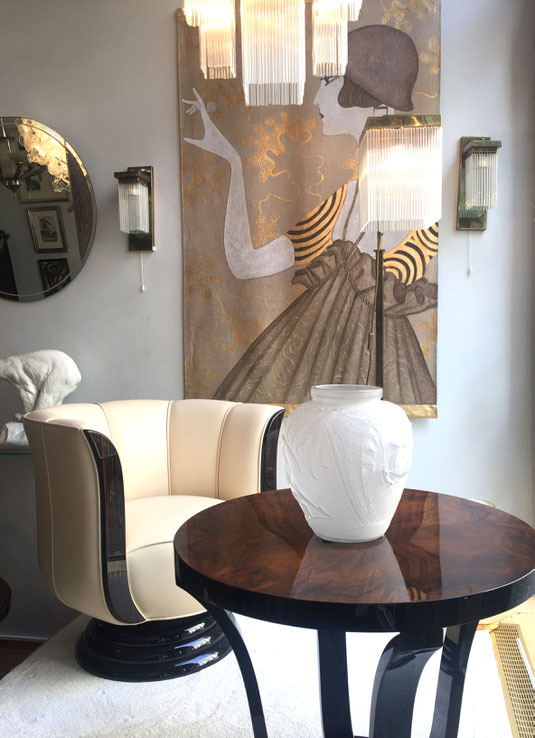 Furniture and interior
Art Déco furniture came largely from France and Paris in particular; almost nothing comparable in design and quality was produced outside France in the 1920s. American cabinetmakers were more inspired by German and Austrian modernists than by examples from the Paris salons.
The roots of Art Déco furniture can be traced to the French ancien régime and the work of 18th century cabinetmakers such as Riesener, Roentgen and Weisweiler. This comparison was suggested, among others, by Jaques-Émile Ruhlmann and Jules *Leleu himself. After the exuberant era of Art Nouveau, when furniture makers were thought to have strayed far from the tried and true path of traditional French taste, there seemed to be a need for a return to purity of form and sophistication.
The design was simplified, carved details were withdrawn. Now harmony was seen in the pleasing proportions of a chair leg, or in the unobtrusive ivory trim of the moldings. The strict doctrine of Austrian architect Adolf Loos at the beginning of the 20th century-Ornament was to be equated with crime-had been prescient: But decoration was not entirely abandoned after the excesses of the fin de siécle. It remained an integral part of Art Déco furniture. Beauty in the home, it was argued, was important for human well-being.
Examining the pieces from the years between the wars, the designers of Art Déco furniture can be divided into three tendencies: Traditionalists, Individualists, and Modernists. The traditionalists adopted the legacy of 18th and 19th century French cabinetmaking. Jacques-Émile Ruhlmann was the most famous and influential designer among them. Although many of his best-known works were designed before 1920, his furniture is now considered the epitome of Art Déco at its finest, partly because of its impeccable forms and partly because of its judicious combination of the most precious materials.
Ebony, with its pitch-black surface, double-polished to bring out its typical coloring, was the designer's favorite wood, and this led to a shortage in the industry in the 1920s. Cabinetmakers had to resort to either ebony veneer or other woods. For Ruhlmann and others, the most popular substitute was Makassar ebony from the Indonesian island of Celebes. Other important tropical wood veneers included Brazilian jacaranda (palisandre de Rio), often alternated with other veneers: Amaranth, Amboina, Mahogany, Rosewood and Maple. In addition, these could be used in combination with root wood such as maple or ash. The exotic species - palm wood, calamander, and zebra wood - had to be used sparingly if their very characteristic grain was not to visually bludgeon the viewer.
The Art Déco furniture designers also liked to expand his decorative repertoire with other materials, adding a touch of opulence to his works: especially lacquer, galuchat (chagrin), ivory and wrought iron. Of these, varnish essentially outlasted the twenties, after which industrial synthetic varnishes came increasingly into use. Galuchat is the skin of a small spotted cartilaginous fish: ray leather. It could be used unbleached,was varnished or dyed to emphasize its grainy surface texture. Snake and animal skins, for example pony skin, were used in a similar way. Ivory, which had been completely absent from furniture design in 1900, experienced a renaissance, decorating and enhancing drawers, sabots, keyhole hardware, and the slender outline of a curved furniture leg. Wrought iron was also used again, and its unruly mass became as docile as wax when used for furniture, lighting fixtures and architectural elements. 
The partnership of Süe et Mare was institutionalized in the Compagnie des Arts Francais in 1919. Their furniture was inspired by the past, and they considered Louis Philippe's style as the last legitimate one. Mare declared in 1920: >> He fulfilled needs that we still have. His forms are so rational that the carmaker who designs the interior of a car uses them unconsciously. We do not revive it; we do not consciously perpetuate it, but we find it when we look for simple solutions, and by doing so we bind ourselves to the totality of our great past. We do not just create fashionable art.<< 
In the Süe et Mare armchairs, the cushions were covered with Aubusson fabrics; they were decorated with tassels and looked lush and inviting, Other models could have been Baroque or even Rococo. Leleu was an even greater traditionalist. He was characterized by his preference for perfect furniture joinery, harmony, and the use of the best materials available, such as walnut, macassar ebony, amboina, and rosewood. Marquetry, never dominant, was made of ivory, galuchat or horn. Lacquer was introduced in the later twenties, as were brass and mother-of-pearl inlay. This was followed by smoked glass panels and metal frames in the thirties, but the latter only to a limited extent, as Leleu found that these improved with age, unlike wood, which could not be taken away. Paul *Follot, who was employed as a designer in Julius Meier-Graefe's gallery La Maison Moderne at the beginning of the 20th century, which, however, existed only for a short time, managed the transition from the aesthetics of Art Nouveau with great ease. His furniture, shown at the 1912 and 1913 salons, featured a motif with a stylized basket of fruit or summer blossoms, now considered emblematic of Art Deco. In 1923 he was appointed director of the Atelier *Pomone, and in 1928 he joined Serge *Chermayeff at Waring & Gillow in Paris. As ensemblier, he designed a wide range of furniture in a neoclassical and aristocratic style during these years. His designs achieved their sumptuous effect in part through the use of bright damask with tassels or velvet upholstery in gilded wooden frames.
Maurice Duféne, artistic director of *La Maitrise, the arts and crafts studio of the great Parisian department store Lafayette, played a prominent role in the machine production of affordable furniture, and he believed that aesthetic quality need not suffer at all. At the 1925 Paris World's Fair, his work was literally ubiquitous. Armand-Albert Rateau was also a traditionalist, but developed a very distinct personal style, and his works are highly prized by Art Déco collectors today. He was particularly influenced by the Orient and antiquity, creating a menagerie of birds, insects and larger animals interspersed with acanthus and marigolds. Early oak furniture gave way to bronze works with a verde antico patina. Although he was excluded from the 1925 World's Fair because he was not a member of a Paris salon, he found dare to show his work in the displays of some of the participants. The strategy worked, as some of his work was selected for the traveling exhibition that was shown in eight American museums the following year. Today, he is best known for his interior designs, which he created for Jeanne * Lavin's apartment on Rue Berbet de Jouy in Paris, for the residence of the American couple George and Florence Blumenthal, and for the Duchess of Alba. 
The furniture house *Dominique - which André Domin and Marcel Genevriere had founded in 1922 - produced a wide range of fabrics, furniture, carpets and metalware, In addition to the annual salons, the company also participated in the 1925 exhibition and, from the following year, in the annual exhibitions of >>Les Cinq<<. The company's furniture designs, made of traditional woods and accented mostly with ivory decor, were invariably refined and coherent in their design. In the thirties the production shifted strongly to synthetic fabrics, for example also artificial silk and Rodhia linen. 
In a similar style to Dominique worked the furniture house *DIM, founded in 1919, under the direction of René *Joubert, Georges Mouveau and (later) Philippe *Petit, which was often influenced by Louis XVI and the Restoration in its traditional orientation. Its furniture was produced , mainly for prestigious clients, in small numbers and conveyed the desired sense of luxury through the use of warm woods such as rosewood, walnut and macassar ebony. For the interior, large panels with burl wood veneers such as rosewood with its characteristic grain were used to great effect.
Inlay work was used very restrainedly and was limited to ivory or padouk crossband patterns or trim. In the 1920s, furniture by Léon-Albert *Jallot, a furniture designer of the older generation, featured typical 18th-century forms with elaborately carved floral decoration. However, beginning in 1919, he turned away from this style and instead used decorative burl wood veneers for contrast. Ivory or mother-of-pearl inlays enhanced the vivid grain of the wood.