Art Déco Interieur | Art Déco Furniture | Art Déco Writing Desks
Art Déco Furniture, Art Déco Interieur, Art Déco Writing Desks
Welcome to Art Déco Wiesbaden !
You are looking for an Art Déco cabinet from France around 1930? Maybe a beautiful Art Déco floor lamp next to it? Or maybe an Art Déco wardrobe with a mirror? Whether in Paris or in Wiesbaden : here you will find the furniture and art objects from the French Art Déco from the time around 1930. Signed Lalique vases set accents, Verly`s glass bowls in opal and blue glass adorn peacocks and mermaids -Bronze panthers lurk on prey and a signed elephant bronze by R. Rochard seems to call... You can combine this art with modern furniture at home - the elegant Art Déco dining table to the refined upholstered Art Déco armchairs and chairs complete the inviting ambience.
Art Déco Interieur Wiesbaden
Art Déco interior furniture and art objects from the French Art Déco around 1930. Here you will find a wide selection of Art Déco furnishings such as Art Déco armchairs, desks, mirrors, decorative wall art, bronzes and mirrors.
Art Déco Writing Desks
Architects created the models for Art Déco furniture, desks that met the high demands and were free-standing in the room.
Art Déco Furniture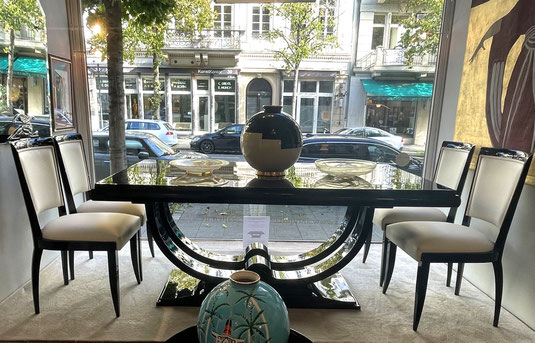 Dining table black
High-backed dining chairs were used for longer sitting comfort at the elegant Art Déco dining table, which was often also extendable. Fashion drawings adorned the walls in the boudoir, the ladies' room. Gazelles, - or Amazons mirrors decorated the bathrooms and precious signed vases in transparent lucid glass were reflected in Art Déco display cases. Champagne was drunk from Lalique glasses which were housed in specially built bar cabinets. The Mallet Stevens bar cart was a must in any self-respecting salon.
 Symmetrical shapes, geometric patterns and playful surfaces.
Art Déco furniture combines elements of Art Nouveau as well as international functionalism. Precious materials such as ebony, ivory or marble give your interior a noble and glamorous touch.
Art Déco bronzes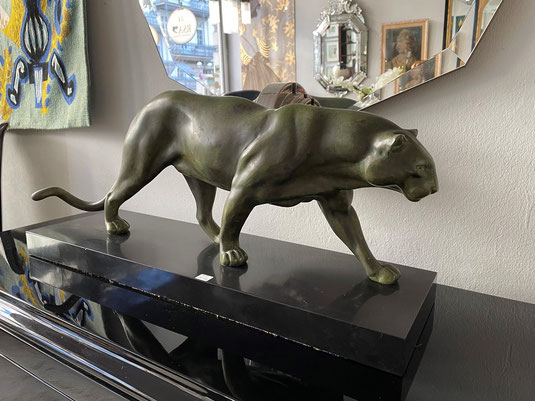 Patinated bronze figures from the twenties were Art Déco bronze like silver-plated metal figures, modeled by Fayral and cast by Max le Verrier. 
Spear throwers or panthers, chased and inlaid metal vases by Jean Dunand, lacquer vases with eggshell decoration can be found in the collection of Edgar Brandt
In Wiesbaden you will find signed Art Déco bronzes and sculptures in my store.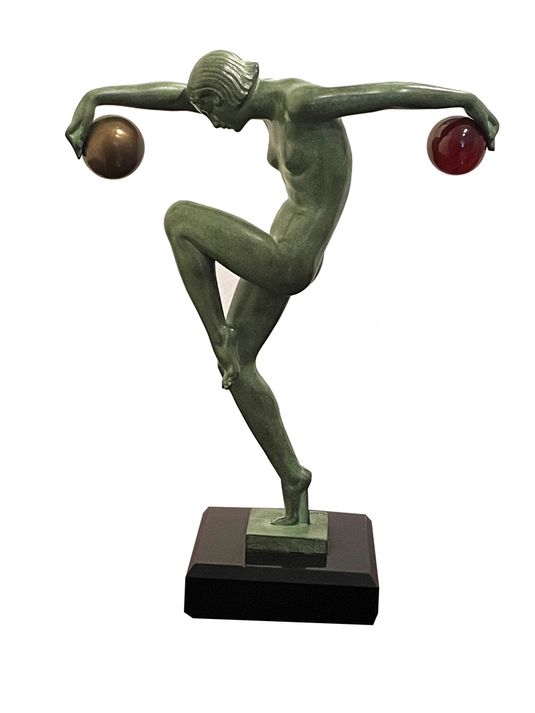 Art Déco lamps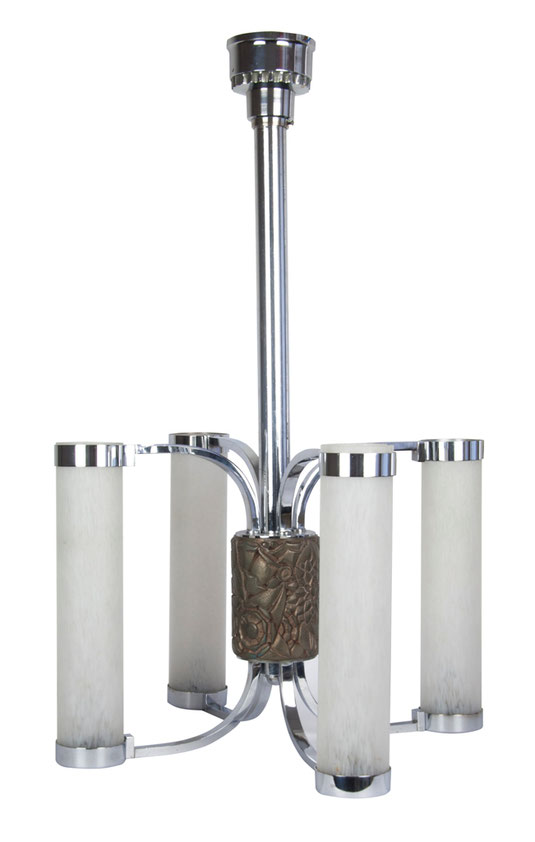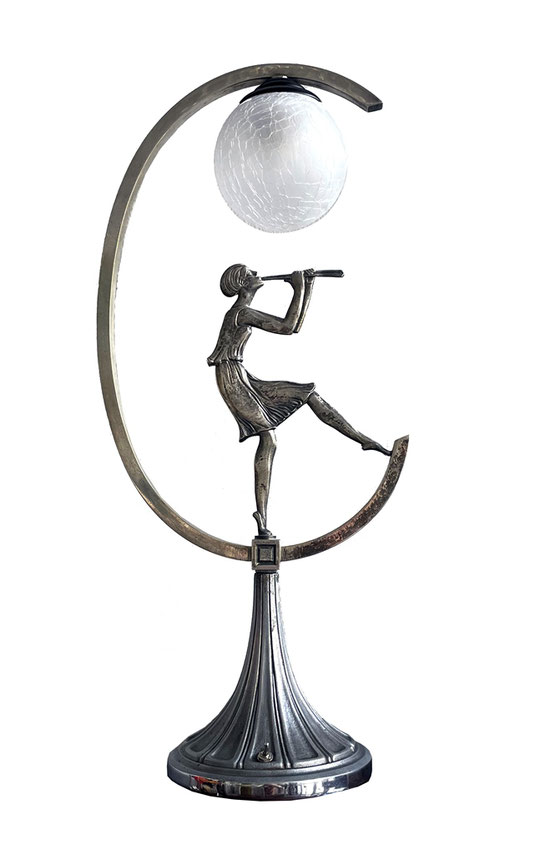 The desire for Art Déco lamps and contemporary lighting was one of the main tasks of designers from the twenties.
In my store in Wiesbaden you will find Art Déco lamps in chromed metals, wrought iron, patinated bronze as well as in pressed, frosted glass.
Also Tiffany lamps of later date are offered.
Also lamps by Jean Perzel, Lalique, Deguée, Petitot, Kalmar, Palwa and Hettier Vincent.
Especially beautiful are also chandeliers with stylized figures such as the flute player.
Art Déco armchairs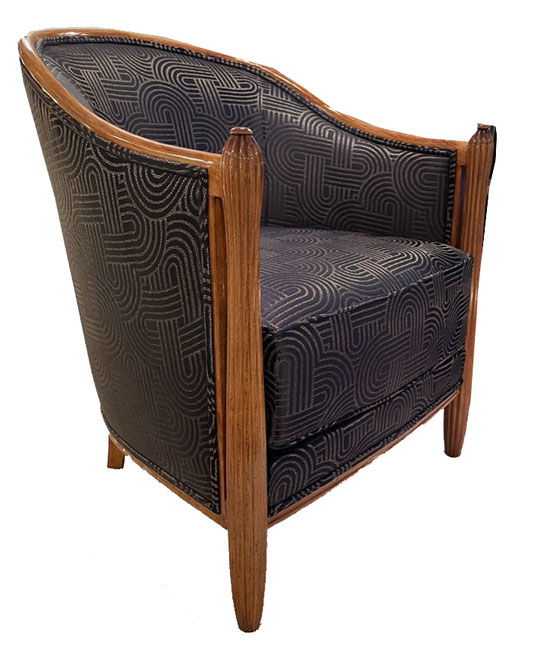 We offer original Art Déco armchairs reupholstered and reupholstered with typical Art Deco fabrics - in velvet plain or in geometric patterns gold-black in durable cotton fabric lovingly covered and refurbished.
The club chairs from the USA were particularly large and heavy armchairs - you could sit in them for hours and they are relatively rare today because the living rooms are usually too small for them.
However, they can still be found in some entrance areas of large villas and in salons of Parisian society.